EVENT POSTPONED until Oct. 29, 2020
Dear StarVista Community,
We wanted to give you an update regrading our 28th Annual Starting Line Breakfast.
Out of concern around the COVID-19 virus, StarVista is postponing our breakfast event to October 29, 2020 to prioritize our community's safety.
We have been closely monitoring the outbreak, and our decision to postpone the event is based on concern for the health of our attendees, panelists, and staff. Given the situation's rapidly evolving nature, the CDC and local health authorities have advised postponing non-essential large community events in gatherings.
We will still host the panel discussion on March 20, and record a video and a livestream of the talk. The video will be posted onto our website after the event, and you can watch a livestream on our Facebook page. Please follow us on Facebook and turn on your notification so that you can know when we go live on the morning of March 20.
We are so grateful for your support.
If you have any questions at all or would like more information, please reach out to Lea Berhane at lea.berhane@star-vista.org or (650) 591-9623×142.
In gratitude,
Lea M. Berhane
Pronouns: She/Her/Hers
Director of Fund Development & Marketing
---
COMPASSION
DRIVING ACTION


A PANEL DISCUSSION ON YOUTH HOMELESSNESS
Crowne Plaza Hotel
1221 Chess Dr, Foster City
Attended by over 200 guests, The Starting Line Breakfast is StarVista's largest annual fundraising event. This sit-down event features inspirational success stories from our clients and staff, and celebrates the growth, evolution, and achievements of our programs over the past year. This year, our event will feature an eye-opening panel of mental health and community-building experts who will discuss stressors facing our shared community and the role StarVista staff, donors, partners, and supporters play in keeping the communities we live in healthy, vibrant, and strong. Join us to learn, to be inspired, and to meet fellow local business, community, and political leaders who are committed to providing hope that helps and heals.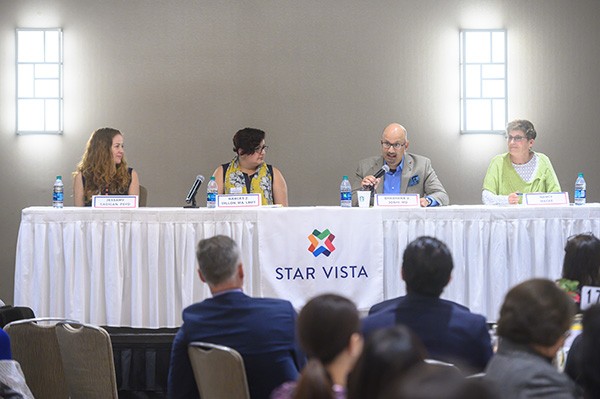 CHAMPION
---
ADVOCATE
---
PARTNER
Michael and Judy Garb
Alina and Kevin Lloyd
Roger and Betty Toguchi
---

ALLY

Chief Ed Barberini and Eric & Debbie Wollman
Children's Place Supporters
Elaine Cummings
Stephan Marshall
Dr. Sara Larios Mitchell and Dr. Robert Mitchell
Nazgol Moussavi
Chuck and Carol Ott
Peninsula Health Care District
Raiser Construction Company, Inc.
San Mateo County Superintendent of Schools
San Mateo Credit Union
Charley and Nicole Scandlyn | New Community Church
Seth Schalet and Claire Berney
Sheriff Carlos Bolanos
Steve and Wendy Shray
Howard and Evelyn Yang